🚲 Buy a VANMOOF S3 or X3 ?
Apply the VanMoof discount code below during checkout to get €100/$100/£95 off on Powerbank, Accessories & PoM services :
ADV-Y78Q-4S9G-HEM7
🔊
Sonos Roam is out! The smallest speaker Sonos ever released, also really portable, unlike Sonos Move, you can take Roam anywhere with you.
Roam comes in two matt colors, shadow black and lunar white. 168 x 62 x 60 mm (6.61 x 2.44 x 2.36 inches) big and 0.43 kg (0.95 lb) heavy. It's waterproof with IP67 standard (meaning can stay 30 Minutes long under 1-meter deep water). So rain or dropping it into the water won't stop your music listening experience.
Sonos Roam behaves like part of your Sonos network over a wifi connection to the other Sonos components while you are at home. If you have two, you can also stereo pair them.
Check this out! 👇
Thanks to the built-in microphone, it's also possible to add Amazon Alexa or Google Assistant as the voice assistant. Built-in seamless feature, Auto Trueplay tunes your speaker to perform its best sound depending on the environment you are listening to music.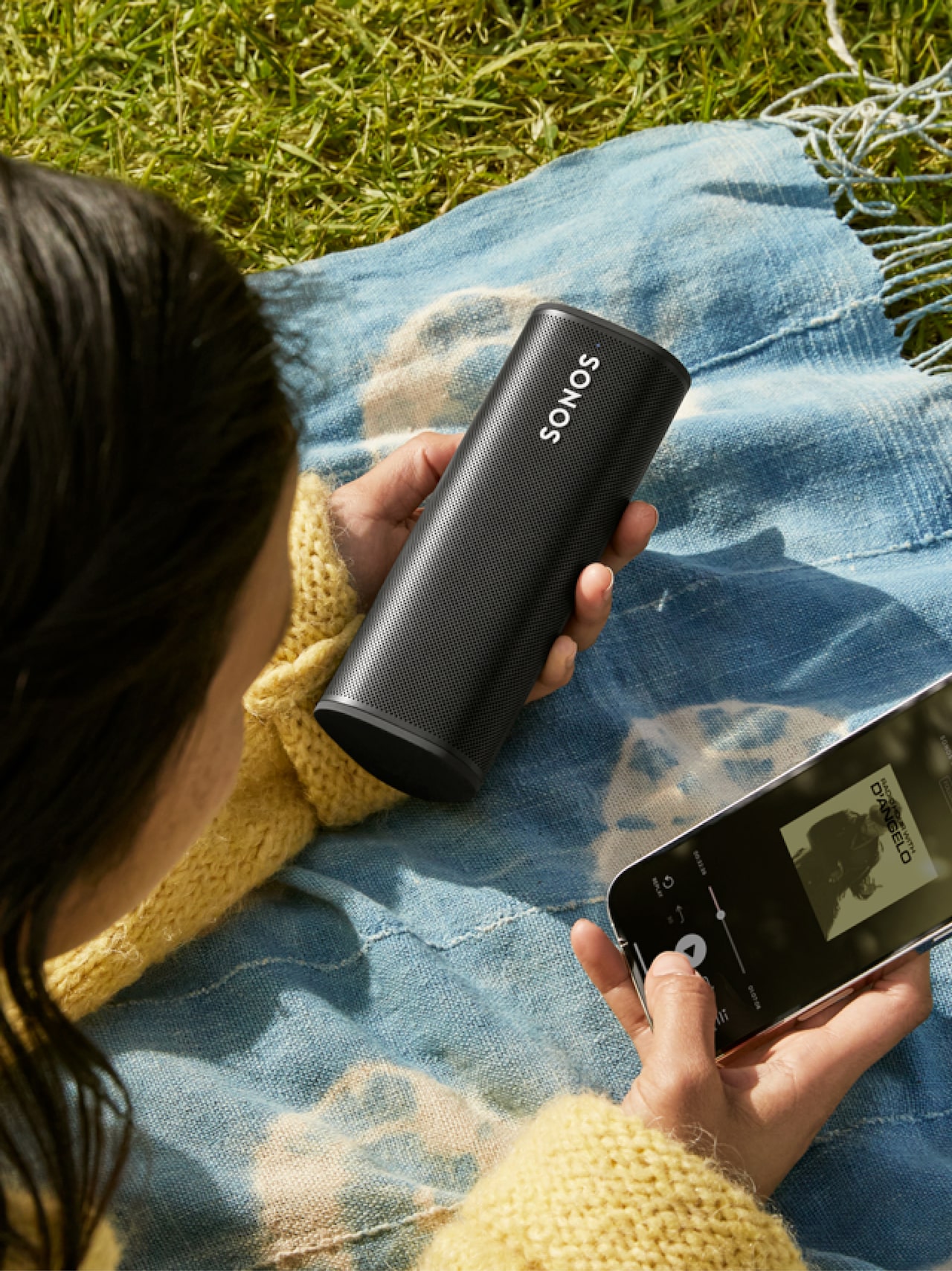 If you want to continue listening to music outside your home, with awesome Sonos quality then no worries. Roam supports Bluetooth 5.0 and Airplay 2, according to Sonos.com you can enjoy continuous listening for up to 10 hours on a single charge.
Sonos Roam Battery, Charging and Port Specs are as follows:
18Wh battery provides up to 10 hours of continuous playback on a single charge, charges with the included USB-C cable and any 5V/1.5A or 2.1A USB power adapter, a Qi-certified wireless charger, or the custom-designed Sonos Wireless Charger (which is sold separately) and the speaker has a USB-Port with specs 15 W, 5 V/3 A USB-C. For more technical details click here.
Charging 🔼
from 12% to 82%
The sound, design, and functionality are fine but how about the charging experience?
So we've made a small experiment: using an 18W iPad charging adapter, tried to charge the Sonos Roam while playing the following Spotify playlist.
As you can also read from the chart above, while the speaker was playing music at a level of 60% volume and charging, for some reason after min 82, at 38% battery, it started to discharge instead. After min 103, we lowered the volume to 25% and charging continued normally. During min 150, the playlist was over so music cut off and charging continued a little faster.
Once the charger showed a value of over 80%, we removed the charging cable and started to play the same playlist from the beginning with a volume of 50% to observe the discharging. The overall charging from 12% t0 82% took around 3 hours and 15 minutes.
Discharging 🔽
from 82% to 52%
Listening to the following Spotify playlist at 50% volume on Sonos Roam over the Sonos wifi network gave us 2 hours and 30 minutes of playtime for 30% battery.
Discharging was constant and reliable, didn't experience any sudden drops in battery percentage.
We concluded applying simple math to the data and as a result, we may say that Sonos Roam would provide 8 hours and 20 minutes of playtime if the speaker is playing music at 50% volume.
Watch the video below:
If we would decrease the volume, we believe that 10 hours of playtime would also be possible to achieve. So thanks to Sonos for the precise accuracy in battery life.
---
🚲 Buy a VANMOOF S3 or X3 ?
Apply the VanMoof discount code below during checkout to get €100/$100/£95 off on Powerbank, Accessories & PoM services :
ADV-Y78Q-4S9G-HEM7
Stay in touch, subscribe to VanMoofer on Medium. 
Follow on Instagram & Twitter, if you own a VanMoof check out VM-Gear. If you like, you can support me by buying me a coffee ☕️.